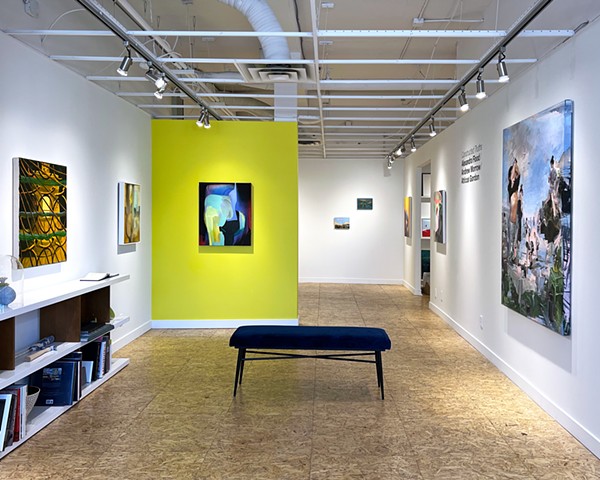 Recent exhibition: "Constructed Truths", a three-person exhibition at Studio Sixty Six, curated by Sam Leowen, featuring Atticus Gordon and Alexandra Darbyshire Flood. March 11-April 23, 2023.
Since 2004 Andrew Morrow has been known for large, densely-textured figurative works, spanning a range of references, from Western history painting to contemporary visual culture. Working from shared and personal photographs, and from in-person sittings with family, friends, and strangers, Morrow's recent work positions the studio as an axis for connection and community-building. His paintings are placeholders for, and traces of, intimate exchanges with his sitters and the people and places in his life.
Resisting closure, Morrow's works are as much about painting and an indeterminate relationship with representation, as they are about the subjects depicted. Often synthesizing multiple figures, landscapes, objects, abstracted passages, and personal textual notes, Morrow generally starts his paintings from in-person sittings, making provisional drawings that are then translated into finished works. In his works, fragmented people populate shifting painted space, inviting encounters between the viewer, the artist, and the paintings.
Current and upcoming:
Winter Group Exhibition, Galerie Youn, Montreal, Canada, February 9-March 25, 2023
Intimate Exchanges, Mon Dieu Projects, Los Angeles, USA, April 1-May 6, 2023
Untitled group exhibition, Studio Sixty Six, Ottawa, Canada, Spring 2023
Untitled solo exhibition, Galerie Youn, Montreal, Canada, September 2023
Untitled solo exhibition, Galerie UQO, Gatineau, Canada, in collaboration with gallery Director Marie-Hélène Leblanc, Fall 2024